The Brookwood Military Cemeteries


Link to Military Cemetery Events
Most of these plots are administered by the Commonwealth War Graves Commission (CWGC). The oldest section dates from 1917, with many subsequent additions representing sThe Brookwood Memorialeveral different nations. Over 4,220 casualties from both World Wars are buried in the CWGC sections.
Additionally there are 468 American war dead, the dead from other nationalities represented here, and other casualties buried elsewhere in the grounds of Brookwood Cemetery. Then there are those servicemen and servicewomen with no known graves who are commemorated on the Brookwood Memorial (3,500 casualties from the Second World War) and the Memorial Chapel in the American section (563 casualties from the First World War). Altogether the Military Cemeteries form about 37 acres, comprising what is the largest military burial ground in the United Kingdom.
The original "British Military Cemetery" was established in 1917. It was used for the burial of soldiers, sailors and nurses who died in hospitals in the London Military District.
Sections include the dead from the United Kingdom, Australia, Canada, New Zealand, South Africa, Newfoundland and the British West Indies. Some of these areas were extended to include casualties from the Second World War.
The Brookwood Cemetery Society organises guided walks during the course of the year, some of which feature some of these areas.
Summary of Nationalities Represented in the Brookwood Military Cemeteries
First World War: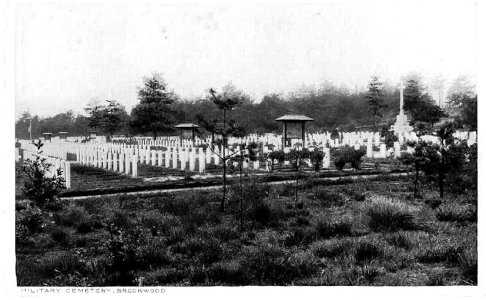 Australia
British West Indies
Canada
India
Newfoundland
New Zealand
South Africa
United Kingdom
United States
Second World War:
Australia
Belgium
Canada
Czechoslovakia
France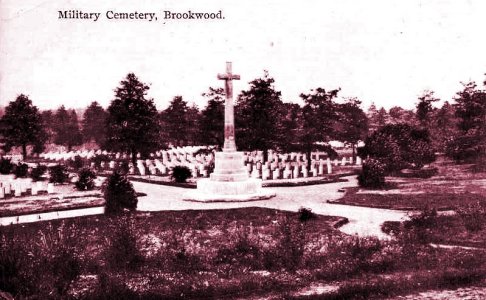 Germany (prisoners of war)
Indian

Italy (prisoners of war)
New Zealand
Netherlands
Poland
South Africa
United Kingdom