Restoration of the Columbarium: Phase I - Stonework (August-September 2009)
(Above) Scaffolding surrounding the Columbarium, early September 2009
This page provides a photographic record of the repairs to the roof of this attractive Grade II listed structure. Postcards are available of the Columbarium - see our publications pages.
Work on the Columbarium started at during the week of 24 August 2009, with the erection of scaffolding. This will allow Chris Anstey, our mason, to work safely at roof level.
His first task was to remove the temporary plastic sheeting and boards, placed there by Erkin Guney (Managing Director of Brookwood Cemetery), as temporary protection.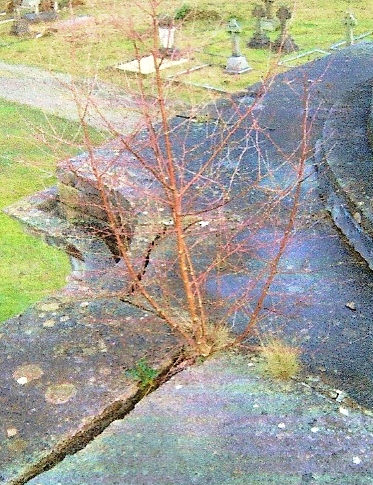 Vegetation forcing roof slabs apart on the roof of the Columbarium, before restoration work started.
Following preparatory work, the next stage was to lift off most of the roof slabs and parts of the pediment to remove the vegetation beneath them. This revealed more damage than anticipated to the roof, along with some sections of the gutter and cornice.
Photographs of the roof at the rear of the Columbarium showing brick over concrete construction. The slabs have been lifted so that vegetation can be removed. Note the base of the dome at the top of the right hand photograph.
Parts of the pediment are cracked and will need to be drilled and pinned. The apex of the pediment has slipped forwards and will also need to be drilled and pinned in order to secure this to the masonry below.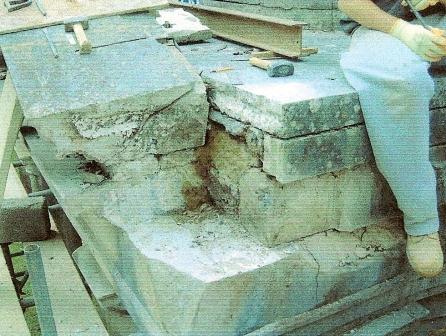 photograph showing the corner of the pediment and evidence of cracked stonework.
The missing lenses in the dome will be replaced with mesh to restrict access by birds or other creatures, and to facilitate air flow into the structure.
The masonry work was completed during September, after which the roofing contractors, A.E. Hughes, moved on-site. Their work is recorded here.
Photographs © The Brookwood Cemetery Society and John Deal