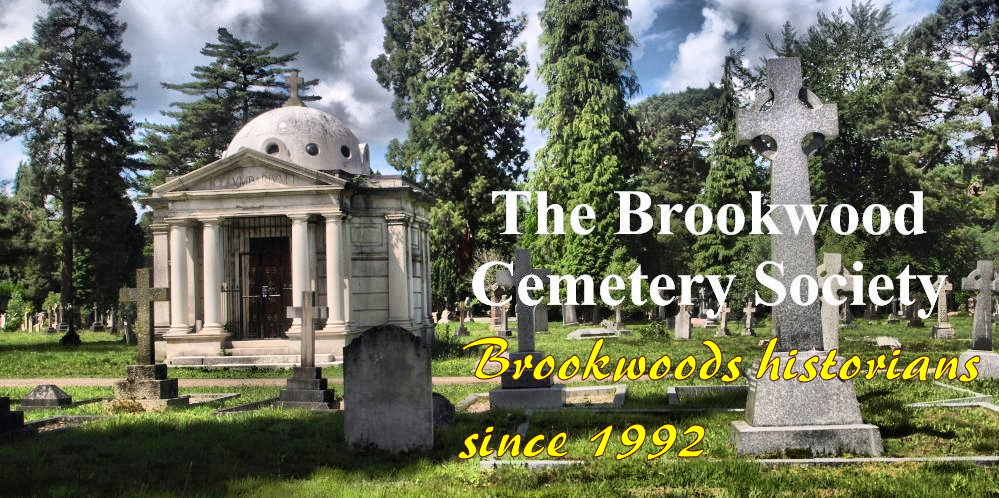 Welcome to the Home Page of The Brookwood Cemetery Society
The Brookwood Cemetery Society

is a voluntary group dedicated to the preservation, history and appreciation of Brookwood Cemetery. The cemetery was opened in November 1854, and was the largest in the world. It was originally called the London Necropolis and National Mausoleum Company or Woking Cemetery.
Walks Postponed
We have had to postpone our planned walks because of changes in HM Governments Covid-19 guidelines. Only 2 households are allowed to meet outside and travelling is only allowed for specific purposes.
Please keep checking the Walks page. We hope to do some walks when rules allow.

STAY SAFE. Brookwood Cemetery Society Committee
All Monthly Walks cancelled this year
Brookwood Cemetery office is closed to the public until further notice, all enquires should be made by telephone or email.
Latest updates
2017 Newsletters added to archive
Surrey Advertiser article regarding the opening of the new Necropolis Company Station, 16th April 1902.
This site was last updated 21-11-20 © The Brookwood Cemetery Society